Alarm System Remote Control and Event Notifications
With today's busy lifestyles, more and more alarm system owners want to be able to control their systems remotely using a smartphone app or computer. They also want to receive important information from their systems, and to have control over which and how messages are delivered to them.
Alarm systems enabled with Uplink Remote allow system users to:
New: access video footage of your home or business
View the system's current arming status.
Remotely arm and disarm the system.
View alarm event history.
Receive event notification messages.
Access the service via a computer or mobile phone browser, or from an app on iPhone and Android devices·
Add, manage and delete logins.
Adjust settings for email and text messaging of event notifications.
Easy website login at uplinkremote.com.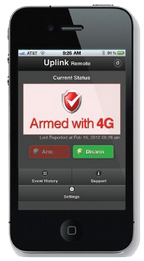 Uplink Remote supports two service levels to help you meet the needs of your customers. As with all other Uplink services, these options have a flat rate monthly charge.
Dealers can offer Uplink Remote on new installations, or upgrade the hundreds of thousands of installed Uplink communicators to Uplink Remote service.
Uplink Remote is compatible with most alarm systems with an Uplink communicator and a keyswitch zone and a programmable output.
Uplink Remote apps are free for users to download on the iTunes store and Android App website.
Uplink Remote is designed to be dealer branded, and provides your customers with your company's contact information for service, sales and support inquiries. Each page of the Uplink Remote website prominently displays the dealer's logo in the top left corner.