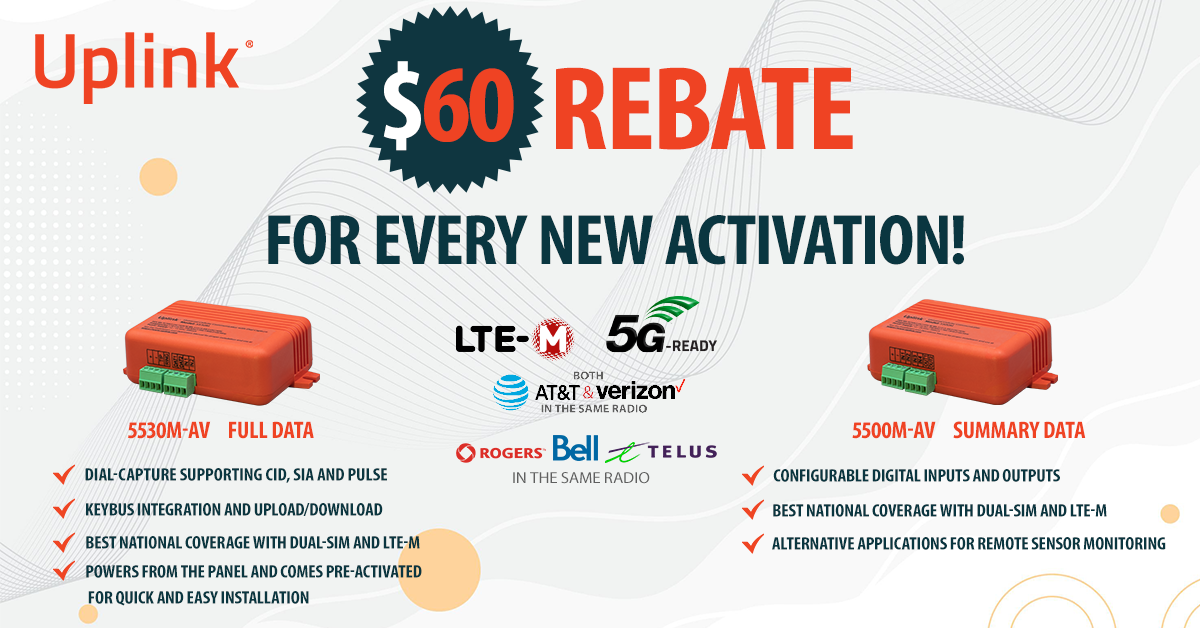 Terms & Conditions:
Starting from May 1st 2023, cellular communicators 5530M-AV, 5530M-CN, 5530M-GL, 5500M-AV, 5500M-CN, 5500M-GL are eligible for up to $60 sales rebate for every new activation. The rebate is available directly through Uplink and through selected Monitoring Stations.
The rebate can be claimed during the initial device registration process at www.uplinkdealers.com – check the "Claim Rebate" checkbox for each new device.
The rebate will be deducted from the monthly cellular service invoice, following the device activation (first connect to cellular network). Depending on the selected cellular service billing method during the initial registration, the rebate will be deducted from the Uplink invoice or the Monitoring Station invoice.
The devices with rebate applied are subject to 12 months Minimum Subscription Term (MST). This means that the device must remain active for at least 12 months after the initial connect to the cellular network. In case the device is deactivated during the MST, the rebate will be charged back to the first invoice after device deactivation.
If the cellular service is billed through the Monitoring Station, the device needs to remain under the selected monitoring station until the 12 months MST expires.
The cellular service billing cannot be changed during the 12 months MST – e.g. switch cellular service billing from Uplink to the monitoring station and vice versa.